Washing system
The products entering the machine continuously rotate around themselves and also the washing chamber with the effect of the high pressure water,then going about 10 meters and fall to the vibration conveyor .High pressure in the washing chamber ensure excellent hygienic- bacterial condition and perfect washing results .
Unwanted particles, dirt and sand , which are separated from the product in the washing chamber, pass through the filter in the bottom of the chamber and enter the sinking channel. Since the water in this channel is stable they can not mix with the washing system and they leave the system through the discharge valve. The channels at the upper limit of the washing chamber is designed to automatic discharge of the unwanted particles and insects.
The clean water coming from the rinse nozzles is used instead of the dirty water discharged from the system. Machine works continuously with clean water.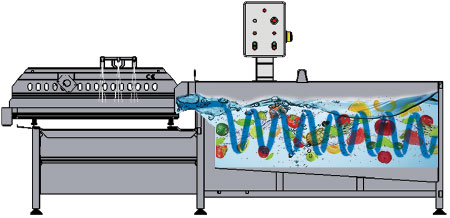 Vibrating Conveyor System
The products falling on the conveyor from the washing chamber are rinsed with clean water by the rinse nozzles .The remaining particles  fall down from the perforated sheet  bottom of the conveyor by the effect of vibration. A second filter, located at this point allows the particles to leave the system directly.  Finally the water, which is free of undesirable particles, is taken to the feed hopper and from there goes to the wash hopper for reuse. At the same time, washed and rinsed products are poured into the unloading basket with the effect of vibration. The  vibrating conveyor  does not return like the other non-toxic conveyor belts. Returning  belts always leave certain quantities  particles, sand and dirt in the washing chamber.
Washing Capacity
The vegetable washing machine with vibrating conveyor is designed for continuous operation by continuous feeding. 300 kg of light vegetables . 600 kg heavy vegetables and fruits  can be washed  per hour.   
Bacterial Hygienic Washing
The product pass from washing chamber to the vibrating conveyor during this operation product also washed by 9 fresh water nozzles. Disinfection of the products is ensured with the help of the pump connected to the disinfectant inlet.
Technicial Specifications

Wash Capacity

Power
: 3,5 kW
Light Vegetable
: 300 kg
Electric
: 220-380 V AC – 50 Hz
Heavy Vegetable and Fruits
: 600 kg
Weight
: 420 kg
Washing chamber water capacity
: 750 lt
Clean Water Inlet
: 1/2"
Water Discharge
: 2"
Dimension
: 3100x955x970/1550 mm
All the metal parts are manufactured AISI 304 CR-NI